Review by Reno Lovison:
"The Man Who Invented Christmas" (runtime 104 minutes, screenplay by Susan Coyne) is a fairytale about a fairytale. As such it is an enjoyable fictionalized film about the writing of "A Christmas Carol" by Charles Dickens which gives a nod to the old adage that all writing is biographical.
This is a "must see" for any fiction author who is tormented by your own characters and the process of finding an end to their journey and your story.
If you also know what it is like to work under a deadline you will appreciate the fact that Dickens wrote this classic in only six weeks; he self-published it as well in a time long before computer software or even typewriters and when illustrations had to be hand drawn, then etched by a lithographer. As a professional writer you might also appreciate the pressure he feels to earn an income, in this case particularly after two failures on the heels of a few successes.
The plot interweaves bits of Dickens' own life experiences, and his encounters with the many colorful individuals he meets or observes in Victorian London, with familiar snippets of his most beloved holiday tale.
We learn that the character of Scrooge is partially inspired by Dickens' father John (Jonathan Pryce) who the author perceived as cold hearted and uncaring; but who was perhaps attempting in vain to shield the youngster from the harsh realities of life.
No one knew more about life's harsh realities than the author who was sent to hard labor at a tender age after his ne'er-do-well father was banished to debtor's prison. This bleak episode in his life informed many of his works including of course "Oliver Twist." It also provided him with the desire to champion the oppressed and mistreated.
Like the story it is based on, this story is about redemption, overcoming our own fears and dealing with pieces of the past that hold power over us, keeping us from moving successfully and cheerfully into the future.
His muse through the writing process is a young Irish parlor maid Tara (Anna Murphy) in his employ who enjoys pulp fiction and who provides him feedback as he reads her parts of his developing manuscript. She is the "every girl" he needs to gauge potential audience reaction. This vehicle helps move the plot along but also can be a reminder to authors that working in complete solitude is not always the most productive.  Seek insight and advice from a trusted source.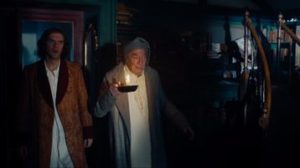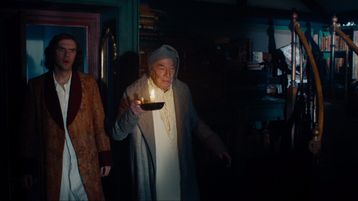 The role of Scrooge, who haunts the author day and night throughout the movie, is played brilliantly by Christopher Plummer who embodies a very dark version of the character. Plummer adds a dimension of drama to the production which would otherwise be a bit bland.
Charles Dickens played by Dan Stevens (who will be familiar to Downton Abbey fans and who comes across scarily reminiscent of Hugh Grant) is his usual charming and affable self  in the role but reminded me little of Charles Dickens as I feel I have seen him in portraits of the period.
The cinematography is mostly dark and muted which helps to blur the distinction between reality and fantasy but the dialogue is upbeat and humorous with many inside jokes for those familiar with Dickens and "A Christmas Carol" in particular.
This movie has more of a made-for-TV quality and is bound to be a perennial holiday classic on PBS or maybe Hallmark Channel or Lifetime. It is a nice spin on "A Christmas Carol" for those who are already familiar with the characters.  Hopefully it will be available soon at Netflix or one of your favorite online movie platforms.  In the meantime consider reading the book of the same name by Les Stanford.