The Midwest Writers Association (MWA) presented a panel discussion to help prospective nonfiction authors.
Five panelists, all MWA members each gave a five minute talk that covered five specific tips related to nonfiction writing.
"Five rules of nonfiction writing" – Cynthia Clampitt
"Five fiction techniques for compelling non-fiction."  – Sue Baugh
"Five things you need to know about memoir writing" – Cyndee Schaffer
"Five reasons you need an editor." – Barbara Barnett
"Five important tips related to book marketing." – Reno Lovison.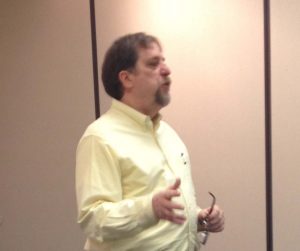 The panel was introduced and hosted by Reno Lovison, Outreach Chairman for MWA and Executive Producer at AuthorsBroadcast who co-promoted the event.
MWA Past-President, Cynthia Clampitt author of Midwest Maize How Corn Shaped the U.S. Heartland began the program. She was followed by Sue Baugh, author of Echoes of Earth and Cyndee Schaffer, author of Mollie's War. The fourth speaker was current MWA president Barbara Barnett, Executive Editor at BlogCritics.com and author of The Apothothecary's Curse. Reno Lovison, author of Turn Your Business Card Into Business finished up the formal presentations.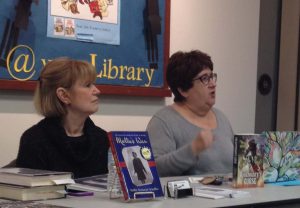 The following 45 minutes were filled with thoughtful questions from the audience  with informative answers from the knowledgeable panel.
This presentation held at the Edgebrook Branch of the Chicago Public Library is planned to be the first of a series of similar events presented by the association and its members at various venues throughout the Chicago area.
Look for future event information at Midwest Writers Assn website.
You can see Barbara Barnett speak about her book right here at Authors Showcase.