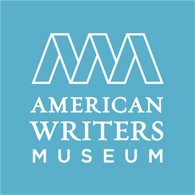 It is exciting to know that the first and only museum in the U.S. dedicated to the written word is located in Chicago on Michigan Avenue and appropriately only steps from our cherished Chicago Cultural Center and former Chicago Public Library.
The American Writers Museum celebrates not only American authors, but poets, lyricists, scholars, and advertising copy writers. If there are words involved in the work likely it qualifies for potential inclusion. The catch is the creator must be deceased so some of your current favorites may be notably absent from the collection.
It seems a bit of a challenge to create visual displays around words only but the AWM seems to have found a number of ways to make the space interactive while also providing a sense of calm that allows visitors the chance to reflect.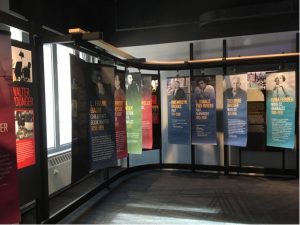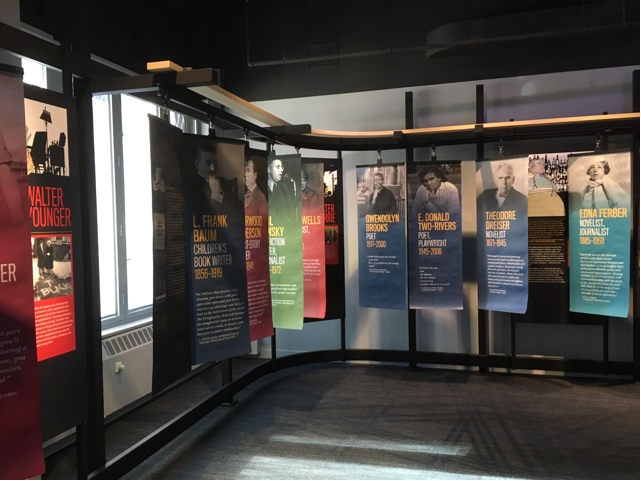 There is a hall of hanging banners that you can flip through (much like in a carpet store) to read short bios about American Authors.
There are a couple of multimedia programs projected on walls and a cool table about ten feet long that is made from a large touch screen that allows you to use your finger to drag icons off of a chronological timeline to get further information about a specific writer and his or her work.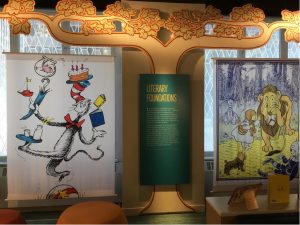 I am sure it is a function of my age but I was happy to be greeted by two large posters in the children's exhibit. One of Dr. Seuss' "Cat in the Hat" and the other of L. Frank Baum's "Wizard of Oz" W. W. Denslow illustration "Dorothy Meets the Cowardly Lion."
Program Director, Allison Sansone explained that there was a conscious effort to avoid making the museum "artifact focused" though there is the  original unique manuscript of Jack Kerouac's "On the Road" and a collection of vintage typewriters visitors can use to contribute to the day's story.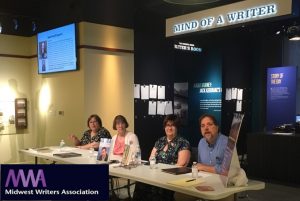 It was my pleasure to be part of a panel discussion presented by Midwest Writers Association.  Our organization has the distinction of being one of the first writers groups to present in the new museum that recently opened in May of this year. The topic was "Writing Non-Fiction" and was presented in the museum's  S. Leigh Pierson and Douglas R. Conant Readers Hall. The space accommodates about 100 when set up theater style. Otherwise it is used as a free form lounging area where visitors can relax and read.
The American Writers Museum located on the second floor at 180 N. Michigan Avenue in Chicago is currently open from 10-5 Tuesday through Sunday with extended hours until 8 PM on Thursday. Check their website for details and admission information.
The Midwest Writers Association is a networking and creative support group of professional non-fiction writers typically meeting and offering programs around the Greater Chicago Area.
___________________________________________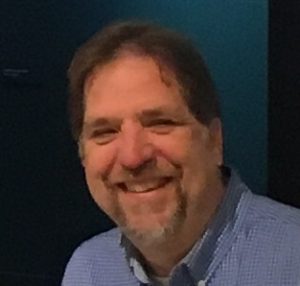 Reno Lovison is Executive Producer at AuthorsBroadCast.com providing video service to authors and currently serves as Vice-President and Outreach Chair for Midwest Writers Association.