You can now connect to your readers through a variety of digital devices with the Authors Broadcast premier digital communications platform
Utilizing our suite of services, you can share video book trailers; author interviews; chapter samples; readings of your book; and more to the widest possible audience.
AMAZON DIGITAL TV CHANNEL

The centerpiece of distribution is the Authors Broadcast digital TV channel accessible via Roku and Amazon Fire which includes the Kindle Fire, Fire Tablet, Fire Phone and AmazonFire TV digital television devices. By having a presence on these Amazon technologies, your book trailers, video interviews and readings are associated with the most active and trusted book selling brand on the planet – – and accessible to millions of potential buyers.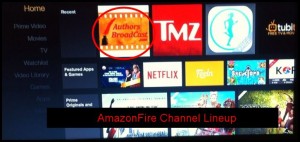 Search "AuthorsBroadcast" at Amazon.com  to include our channel in your Amazon Fire device.
MOBILE APP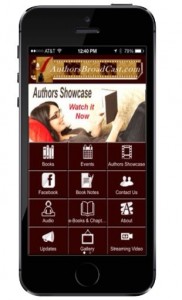 Authors Broadcast also provides access to a mobile phone and tablet app that makes your content available via reader's Apple (iOS) or Android devices.
Through the use of this mobile app you can easily direct your fans and potential readers to your content no matter where they are. You can even include a sample chapter and event notifications such as book signings, or appearances at book expos and live readings.
To download the Mobile App for your smartphone, iPad or tablet search "Authors BC"  in the app store for iPhone / iPad and "Authors Broadcast"  at Google.play for Android.
ONLINE SOCIAL MEDIA
Your digital content and book related news will also be shared via our website, Facebook page, YouTube channel, and with our thousands of book club, twitter and social media contacts.
AUTHORS SHOWCASE

Over 200 authors have appeared in more than 30 monthly episodes of our exclusive "Authors Showcase" series. Begun in 2012 as a local TV show accessible to about 475,000 cable households in Chicago. It has now been expanded to the digital TV platform making it available to over 18 million Kindles, tablets and digital television devices nationwide.
DIGITAL MEDIA PLATFORM
The power of our platform is the robust infrastructure we provide. The infrastructure that you need to effectively share your information with interested readers. It's like being represented at a book event every moment of every day.  A potential buyer comes looking to learn more about a specific title or author but they are exposed to additional books or authors they have not seen before. This way everyone benefits from the traffic circulating through the digital communications platform. Because there are always new events and a variety of books available, readers are likely to return looking for something new.
Publishing is a media game that favors celebrity. We have produced hundreds of video book trailers and other author related digital content and wanted to specifically service Indie publishers and authors who are not widely known or those writing on niche topics or in obscure genres. Authors Broadcast will help you build your fan base by providing a media platform that is accessible, affordable and easy to do, so join us today.
CONTACT US TODAY
If you have a video book trailer, audio sample, interview or sample chapter  you want to include on our digital platform – – or if you need help with production, just let us know and we'll do the rest.