In addition to video book trailers


we also produce audio books.
This is an ideal solution for authors who prefer
not to record their own book but would rather
have their book professionally recorded
and prepared for them ready to deliver
on CD and / or via digital download.
Digital downloads via iTunes and other venues are fast becoming a popular way to purchase and "read" books.
We can help you be a part of this increasing trend.
Children's Book Sample

UFO Encounter Book Sample

Poetry Book Sample 1

Poetry Book Sample 2

Audio Book Production

Recording your book with a male or female voice.
(Some projects require multiple voices)
Providing a high quality  WAV file and or MP3 files ready for digital download.

Intro and outro music.
We can also facilitate production of your CDs or upload your files
to a digital download delivery service.

CONSIDER RECORDING JUST ONE CHAPTER FROM YOUR BOOK AS A WAY TO GET READERS INVOLVED.
A sample chapter is a great wa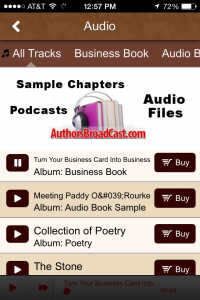 y to get readers interested in your story or give them an idea of what they might learn.
Here is an example of a book preface from a business book.
Chapters can be distributed to your readers via our Authors Broadcast mobile app for iPhone and Android giving them the opportunity to listen on-the-go where and when it is convenient for them. The app includes a buy button so they can immediately purchase your book.
Use the FORM BELOW to discuss details or get a custom quote for your project.