AuthorsBroadCast.com
We produce and display book video trailers and other multi-media services for authors and publishers who want to utilize audio and video to promote their books.
Authors and publishers are invited to post your book trailers
here and on our digital TV platform.
Select Info for Authors on the menu bar to learn more.
To download our Mobile App search "Authors BC" in the app store for iPhone / iPad and "Authors Broadcast"  at Google.play for Android.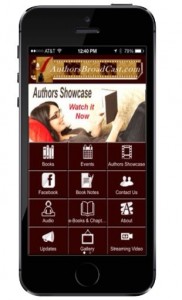 Try App Demo
Our digital channel is also available to approximately 18 million viewers  on  Roku and AmazonFire as well.  Videos can be viewed here and on our Youtube Channel as well.

To include our channel in your Amazon Fire device search "Authors Broadcast" at Amazon.com
Similar to  movie trailers – – book trailers are
intended to quickly acquaint readers with an author
and/or the content of a book that a reader might want to purchase and read. Trailers get your potential readers emotionally involved and deliver your book marketing content on video platforms where millions of interested viewers are anxious to know more about what your have to offer.
Most of our videos are produced for printed books
but we produce videos for e-books and audio books as well.
Readers and book lovers are invited
to view book video trailers and other videos here then click through to the author's or publisher's website to learn more or make a purchase online or through your favorite local bookstore.
Other Services include:

Video and Audio Book Readings
Video Interviews & Speaker Presentations
  Contact Us: