An Entertaining Observation from Caucus to Convention
"One Woman's Amusing 24-month Odyssey Documenting Firsthand the Good, the Bad, and the Ugly of  One of the Most Dramatic Elections in History (2008)"

 Connie Corcoran Wilson
Author of  "Obama's Odyssey" Volumes I and II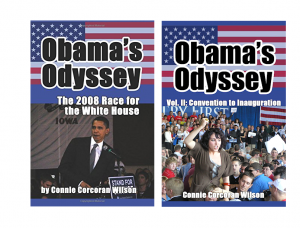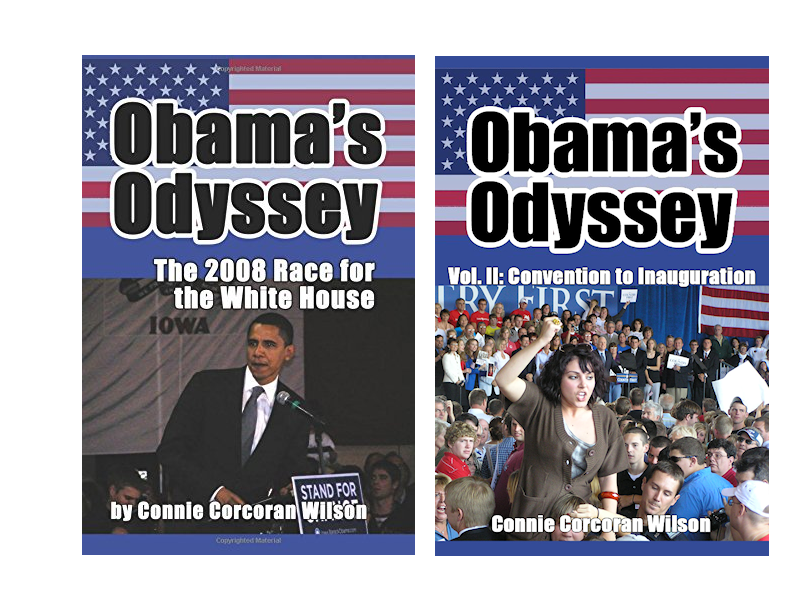 In Person at The Root Room
5203 N Kimball Ave – Chicago, IL
(Foster & Kimball between the NEIU and North Park Campuses)
MONDAY : FEBRUARY 22, 2016
6P – 8P Q&A and Book Signing

Walk In or RSVP HERE for Preferred Seating and Event Reminder.
Optional: Food & soft drinks available from Merla's Kitchen – Filipino Cuisine.
With the busy political season kicking off, Ms. Wilson talks about her experience covering the political campaign as an official correspondent for a major web news service. Getting up close in the political scene began with a short drive from her home near Moline, Illinois to cover the Iowa Caucuses, and later included sleeping on an air mattress in an apartment in Denver along with a number of fellow bloggers mostly 30 years her junior.
On page 123 of Volume II Connie offers alternative titles to the Sarah Palin documentary "The Undefeated".
How about : "Mooseferatu"
"Children of a Lesser Todd"
"Blazing Prattle"
"Driving Miss Dizzy"
or "Gone is the Win".
Connie was an eyewitness in 2008 and 2012 covering the Presidential selection process writing over 1,000 articles for Yahoo.com who named her Yahoo Content Producer of the Year for Politics.
"She is thorough and keeps you entertained and informed. She has an unmistakable wit…" – Rose Richmond
"Connie Wilson has captured [Obama's] journey while on a journey of her own." – Bonnie McGrath